Outdoor Structures that Last a Lifetime
If you want to add a deck, garage, or shed, Deer Ridge Construction is here to help. With our eye for quality, you can guarantee a deck we build will last for decades. We use only the best materials for the job and have an unrivaled attention to detail. So not only will your deck last – it'll look good.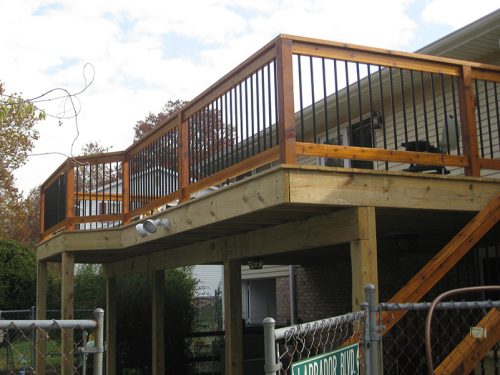 Professional Deck Builders
Beautify your property with just the right deck. There are decks for every type of home, and every type of homeowner. We'll help you figure out what your home needs, and build it up to specs. If you're looking for a grilling area for you and a few guests, we can build a simple extension. If you need a wrap-around deck with room for two dozen, we can build that too.
We'll work with you to make sure that the roof on your deck matches your existing roof. We'll use designs that match the style of your home. Whenever possible, we build decks that look like natural extensions of the home.
Garages have many advantages for homeowners. They go beyond just expanding square footage; they expand possibilities. Having a garage means no more street parking, and no more going around the block until a spot opens. No more digging vehicles out of the snow, or leaving them out in the hail. You get extra storage, convenient work space, and increase home value with a garage.
If you build a garage with Deer Ridge, you'll open up all these possibilities with craftsmanship you can depend on.
Sheds, Cabins, and Horse Barns
At Deer Ridge we can build just about anything. If you're looking for a shed to store your lawnmower, we can build it. Show us a sketch or a layout and we can get it done for you. If you're looking for a cabin for a retreat from the daily grind, we can build that for you. Our team of Amish craftsmen is knowledgeable and dedicated to bringing your vision to life. If you're looking for a place to stable your horse, we can build it a barn. With experience in all kinds of construction, our team is ready.